Recently I moved and need to rethink my rack and network solution. Previously my server and the main switch lived in my IKEA Oppli TV-Bench, which was already showing its age.
I used a Mikrotik CSS326-24G-2S+RM which is a very capable switch for the price, but unfortunaly don't have PoE (For 120€ also a little too much asked).
(At the time) my only PoE device was my Ubiquiti Unifi AP AC Pro which I powered via the included injector. Not an ideal solution, but it worked. As my hardware only stayed in one room, this was enough.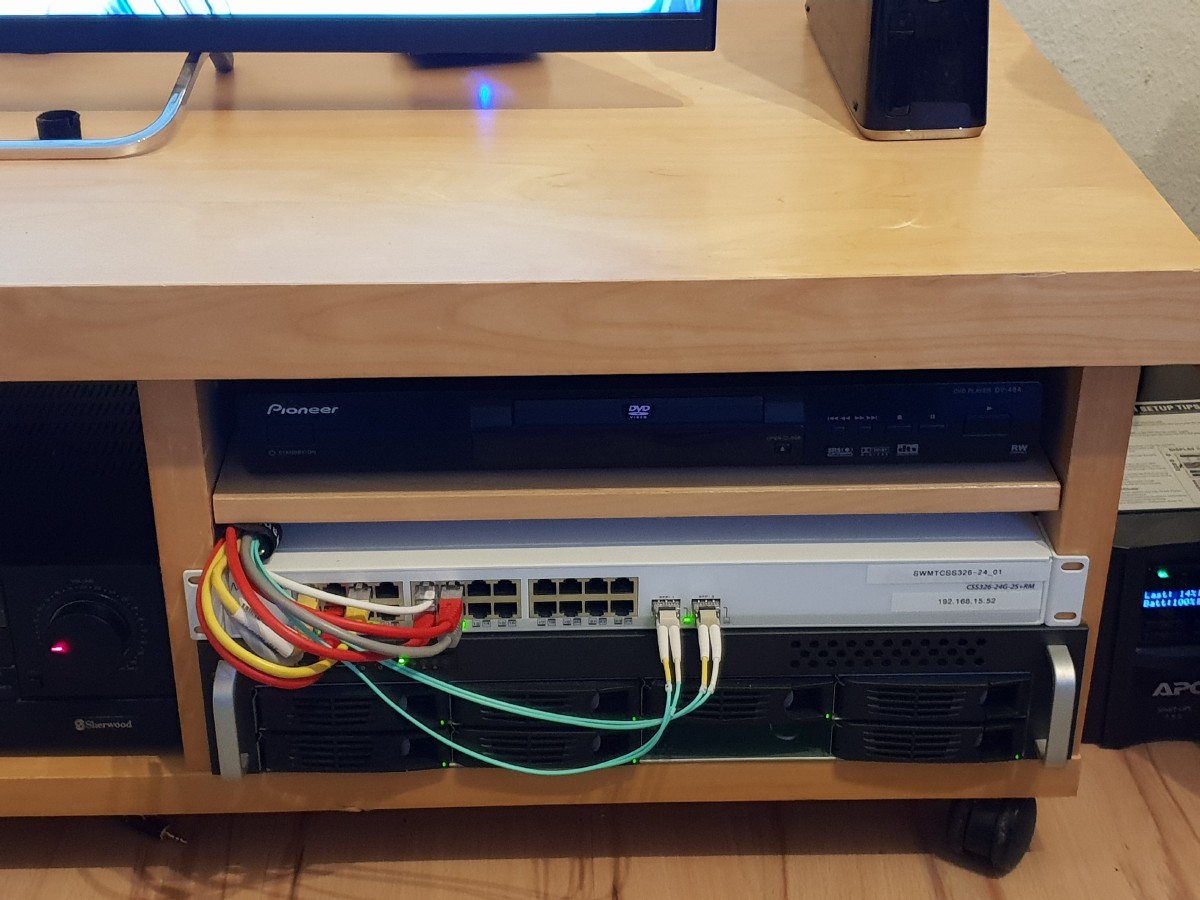 In the new flat I don't have only one room which need network, but four. My landlord has installed a single network socket in every room - two would havee been nice, but its better than nothing.
So, I need a small switch in the office and living room. Because I hate small power supplies and more cables, I've searched for small switches, which can be powered over ethernet. My CSS326 can be powered via passive poe, but a 24 Port switch with 2 SFP+ uplinks is a little bit overkill for a few consoles/media players in the living room and two computers in the office.
Ubiquiti has two interesting switches in its portfolio - the USW Flex Mini and the USW Flex
USW Flex Mini
very cheap. 23€ here in germany
VLAN-aware (with limitations)
PoE-powered
USW Flex
not so cheap (~100€)
VLAN-aware
PoE-powered (with passthrough!)
suitable for outdoor use
The latter point is not so important for me, but the PoE-passthrough is very interesting. I often play around at my desk with access points, so the pass-through is very useful to me.
For the Core I choosed the Mikrotik CRS328-24P-4S+RM. It ticked all my boxes (PoE, 24 Ports and SFP+ Uplinks) and I was already familiar with SwOS, so no big change for me.
I've also replaced the two stock fans with four Noctua NF-A4x20 to silence the switch down.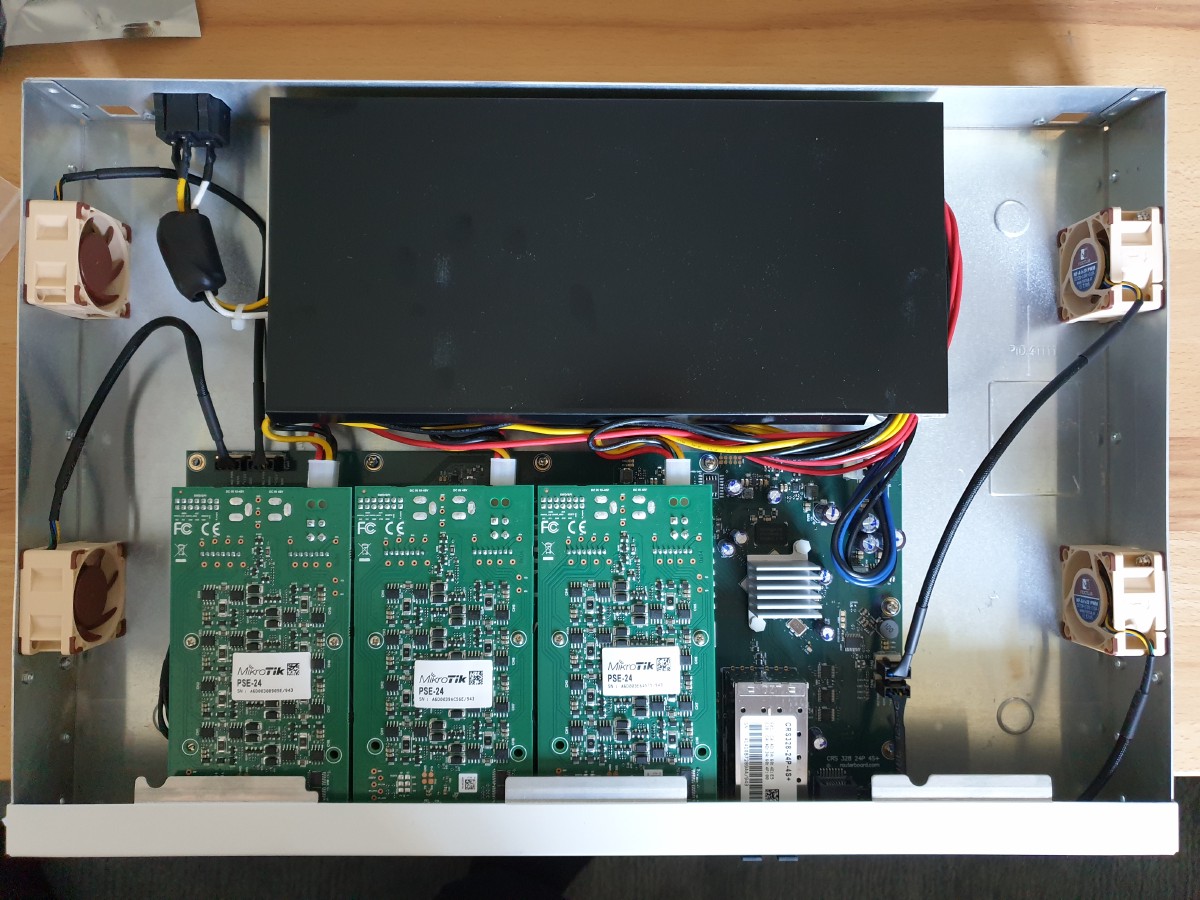 So the network side was sorted out, now the only thing missing is a rack to house the hardware.
The idea of a Lack Rack was alwas appearing for me, as several friends already built one. So I decided to built one too. Because the required material is so cheap, it is not a big loss if it does not meet my requirements. Especially if the LACK table is already present.
Because I have 2 heavy servers, I reinforced the hollow legs with 44x44mm square timber. The end pieces can be easily cut out with a jigsaw, just drill a hole in the middle, saw a cross from it and break out the 4 pieces.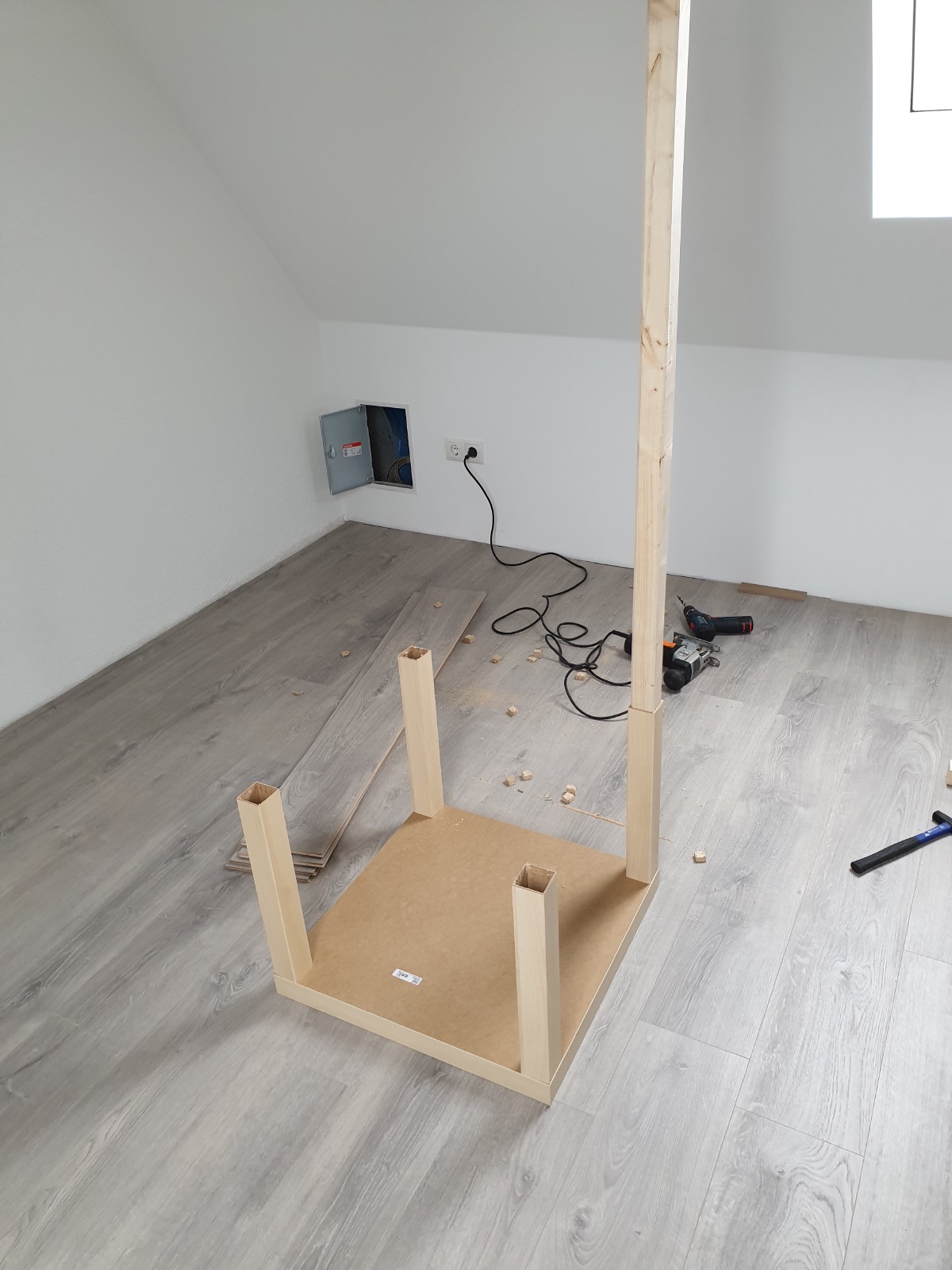 With a Lackrack you cannot use your normal server rails. In my oppli solution the server rested on the oppli itself, which is not possible with the lackrack, unless I flip it over. So I got 2 aluminium profiles from the DIY-Store ("Baumarkt") and screwed these in. Nice side effect: This also add more stability to the desk rack itself.